5 November 2007
Mechanical Drawing
An Exhibition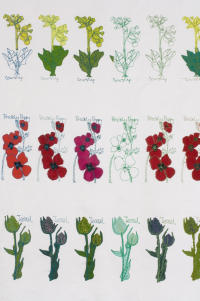 An exhibition of art work by fifteen artists using an historic embroidery machine which is the last remaining machine of its kind will open on 16th November at the Holden Gallery at Manchester Metropolitan University.
The artists, who are mainly staff from the Faculty of Art and Design, have produced their work using the 100 year old 'Schiffli', a multi-needle embroidery machine that can mechanically stitch repeat patterns over a two metre piece of cloth.
These historic machines were used extensively in the 19th and 20th centuries to produce decorative embroidery and had an industry base in the North West of England and Nottingham. Cheaper manufacturing costs in the Far East led to the closure of all the UK schiffli companies who were unable to compete economically with the overseas market.
The exhibition shows work including subverted domestic objects, such as Dixon and Welsh's 'Armchair Politico', Kate Egan's inflating and deflating quilt, 'Stack' and Nina Edge's net curtain, 'Nothing is private'. Wall pieces include huge figurative works by Alice Kettle, Nigel Cheney and Rowena Ardern as well as a quilt by Lynn Setterington. More intimate work is present in the form of a series of rag books by Jane McKeating; and Rozanne Hawksley's 'Anthem for Albion', a poignant installation referencing global conflict. Sally Morfill, Isabel Dibden Wright, Jill Boyes and Melanie Miller play with the inherent repetition of the machine to create wall-based pieces, and Susan Platt has created a schiffli poem, 'the Lost Thread'.
'Mechanical drawing' raises questions about obsolescence, technology and globalisation.
The exhibition continues at a further 6 venues in the UK in 2008.
Venues
Nov 16th - Dec 14th 2007
Holden Gallery Manchester Metropolitan University
Mar 8th - April 27th 2008
The Hub, Sleaford
May 3rd - June 29th
Farfield Mill Arts and Heritage Centre, Sedbergh
July 5th – Sept 7th 2008
Macclesfield Silk Museum
Autumn 2008
The Knitting and Stitching Show, Birmingham, London, Harrogate
For further information about 'Mechanical Drawing – the Schiffli Project' please contact Melanie Miller m.miller@mmu.ac.uk 0161 247 3457
www.miriad.mmu.ac.uk/schiffli