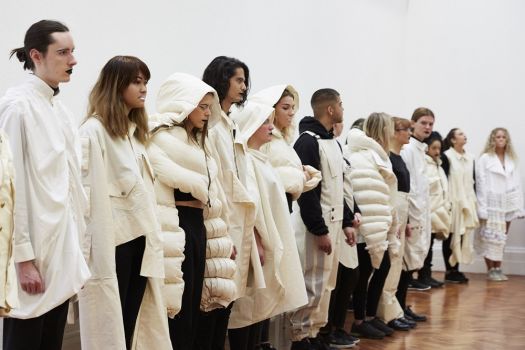 Manchester School of Art becomes a catwalk for Guerrilla Fashion Show
9 December 2016
First year Fashion and Fashion Art Direction students showcase their skills at pop-up event
First year students from BA Fashion and BA Fashion Art Direction have collaborated to transform Manchester School of Art spaces into a catwalk for a Guerrilla Fashion Show. 
On 18 November, this pop-up event saw the School of Art's Grosvenor Building gallery spaces, Link Gallery and Benzie Building suddenly bustling with a train of models showcasing first year Fashion student's inventive uses of neutral coloured fabric. 
'Generally the work was of a high standard and finish', commented Susan Atkin, BA Fashion Programme Leader. 
'Based on their project focused on research and design, the Level 4 Fashion students' first brief included making a calico garment where they focused on shape, proportion design and construction details. 
Their use of unrefined, neutral fabric in interesting cuts and silhouettes matched well with the materiality of the School of Art buildings - from the wood and plasterwork of Grosvenor, through the zigzag of the Link Gallery to the concrete of the Benzie Building, and it seemed appropriate to showcase the work within the spaces it was made.' 
However, the models weren't alone for this show, but were preceded and followed by a busy group of Fashion Art Direction students, who not only captured the show through film and photography as it made its way through the School of Art, but played a key role in bringing the show to life. 
Lesley Raven, Programme Leader for Fashion Art Direction explained, 'the Guerrilla Fashion Show was an opportunity for Level 4 Fashion Art Direction students to collaborate with Fashion students on a 'live' brief. 
This enables skills learned during the first term to be applied and showcased, including team working, idea generation of styling concepts, location scouting in and around campus to directing, promoting and documenting the show.'