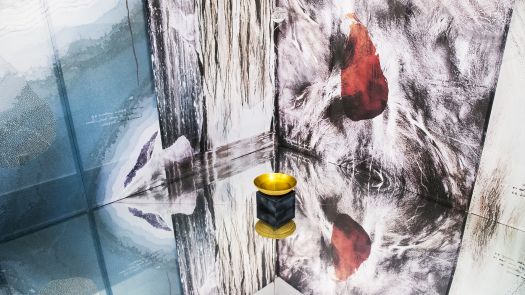 Sri Lankan art festival led by University researcher
9 December 2016
Colombo Art Biennale runs until December 20
EXPERTISE from within the Manchester School of Art is helping to lead an international art festival in Sri Lanka.
Senior Research Fellow Alnoor Mitha is curating the 4th edition of the Colombo Art Biennale (CAB) 2016 themed 'Conceiving Space', held from 2nd-20th December 2016.
CAB is the largest and most significant contemporary art festival in Sri Lanka. Established in 2009, CAB showcases contemporary art with an emphasis on Sri Lanka and the South Asian region.
This year the Biennale will showcase 64 local and international artists, (including 20 emerging and 3 established local artists), 11 international architects, 5 international university student groups and 17 performance artists from Theertha Performance Platform, Sri Lanka. CAB will feature a variety of artistic expressions, including: visual multimedia installations, performance art, and architects working as artists.
Exploration
The events of CAB 2016 takes root from the theme 'Conceiving Space', which seeks to open up a paradigm of seeing, providing possibilities for creative production that engage with explorations of diverse senses of space.
Alnoor said: "We are increasingly living in a time that is dominated by political events that are transforming our globe, making it unsafe, creating a new paradigm that questions our humanity through conflict. However, artists bring a new light, a new wisdom that generates a genuine engagement with the visual narrative that encapsulates issues around space, memory, identity, place, and what I call the transformative architectural paradigm that brings a new experiential reality.
"My ultimate vision is to create a South Asian Artistic Hub in Colombo that is inspirational - an artistic journey that captivates the imagination whilst exploring new ideas with young people, and with the local communities who live in Sri Lanka whilst welcoming international delegates. At the end of the day, art is transformative; it brings smiles to many faces and challenges the cerebral mindset."
The Biennale will bring together artists from over Asia and the world. 
Community engagement
There will be numerous community engagement and education outreach programmes conducted prior to, and throughout the biennale which will also extend beyond the festival, by Mullegema Art Centre, Jayne Dyer in collaboration with Unity Mission Trust, Theertha Performance Platform, Collective of Contemporary Artists (CoCA).
The Architect's programmes featuring Studio Assemble with Madelon Vriesendorp, and Ciriacidis Lehnerer Architekten as well as Will Alsop along with Hirante Welandawe will also be an integral component of the community engagement and educational outreach programmes.
CAB 2016 will be held at over 10 different sites around Colombo including, Postgraduate Institute of Archaeology, The Old Town Hall in Pettah, JDA Perera University Gallery, Cathedral of Christ the Living Saviour, Slave Island Community, Theertha Red Dot Gallery, Prana Lounge, Barefoot Gallery & CoCA Residency.
For more information, visit: www.colomboartbiennale.com