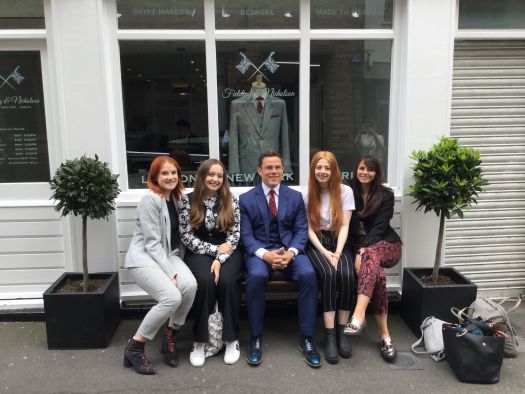 Fielding and Nicholson brief winners selected
12 June 2018
Two students from BA (Hons) have been selected as recipients of a two week paid internship at the bespoke tailors Fielding and Nicholson.
Second year students on our Fashion Design and Technology programme at Manchester Fashion Institute were set a live brief at the start of the year by the company owner Ian Fielding-Calcutt focusing on the future of tailoring in menswear and womenswear.
Ian travelled to Manchester Fashion Institute to select four finalists for the brief, who would then present their concepts to him down in London. From this, two students were selected as recipients of the internships – Courtney Humphries and Holly Walker.
Adrian Thornton, Senior Lecturer and Level 5 Year Lead, said "It never ceases to amaze me how diverse the interpretation of briefs our students present. The Fielding & Nicholson Tailoring live brief has been no exception. All students who have engaged in this brief should be proud of the achievements they have made and the skills that they have learnt that is now reflected in the realisation of some outstanding imaginative forward thinking outcomes. Well done guys!"