28 January 2008
Lecturer named Cheshire Laureate
Poet collects poems from across county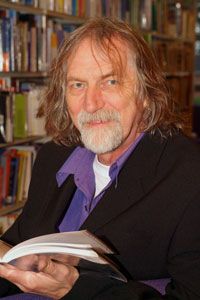 Lecturer Terry Fox has been named Cheshire's new Poet Laureate.
Terry, who teaches Creative Writing at Alsager, aims to raise the profile of poetry across Cheshire after receiving the honour from Cheshire County Council.
He said: "I believe the MMU Writing Course to be the best in the country, so I hope to use our talent to get the public involved in appreciating and writing poetry.
"Poetry is one of my passions. I love words, big words, small words. I love the sounds and rhythms they make and I love them best when they are made into poems."
Two books
Terry, a former blues musician who says his love of poetry was fostered in Alsager, is author of two books of poems, Village Verse and Dance of Fools and has published a biography of boxer Jackie Turpin, called Battling Jack.
A further collection of his work will be published at the end of his two-year Laureate and he will be editing a 'Homage to Cheshire' of poems gathered from poets living and working across the country. The work will echo a collection of the same name published in 1939 by local poet Hedley Lucas.
Terry graduated from MMU's Department of Contemporary Arts in Music and Writing with first class honours.
County Councillor David Rowlands a member of the Poet Laureate Selection Panel said: "I see this project as an excellent opportunity to raise the profile of poetry in Cheshire even higher and follow on from the recent success of laureate projects Bunch of Fives."
To invite Cheshire's Poet Laureate to an event or commission him to write a poem, please phone 01244 972898 or email w.t.fox@mmu.ac.uk.