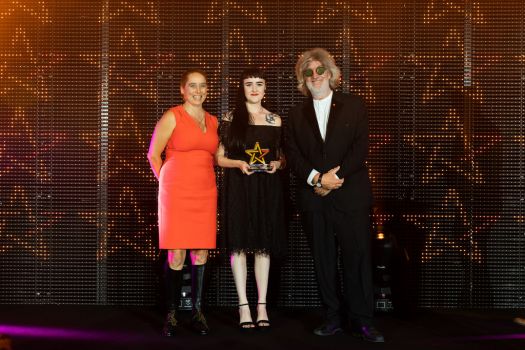 12 July 2018
Success for graduates at digital excellence awards
Two alumni scooped prizes in the student and innovation categories at the Big Chip Awards 2018
Two recent University graduates have scooped prizes at the biggest digital industry awards outside London.
The pair took home prizes in the student and innovation in technology categories at the Big Chip Awards 2018.
The long-running digital and tech awards – now in its 20th year – celebrate the strength and innovation of the sector across the north of England.
The awards – four of the five-strong shortlist for the Little Chip Student Award were also Manchester Metropolitan students – are testament to the University's digital excellence, teaching and research. Both winners worked closely with Hayley Walsh and the Digital Innovation team.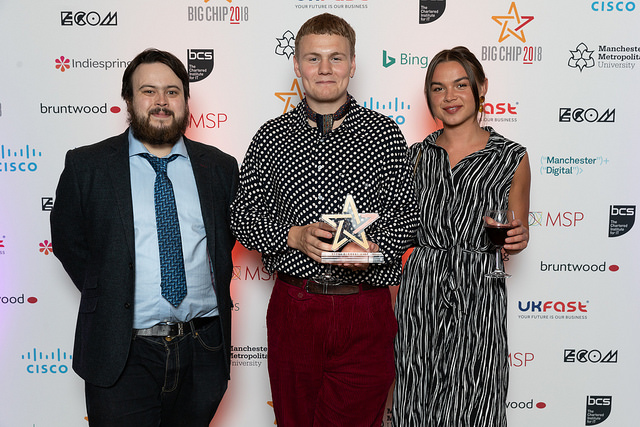 Emma Davies, 22, who graduated from Manchester School of Art in 2017, won the Little Chip Student Award for her final-year project Buskify, an app to help publicise the best buskers in Manchester.
And Billy White, who also graduated in 2017, won the Big Chip Most Innovative Application of Technology Award as part of the Clicks and Links team with Manchester CityVerve VR Bicycle Simulator, a project he initiated while studying at the School of Art.
This VR bike ride using real world scan data allows people to sit on a physical bicycle but experience a virtual world to make them feel more comfortable with Manchester's busy streets. The experience also allows users to cycle in areas that haven't even been built, enabling city planners to design better cycling infrastructure.
Billy said: "At first I wanted to create an experience that people would have fun with, it then started to become apparent that this project and concept would have many real world applications."
Paul Bason, Director of Digital Innovation at Manchester Metropolitan, said: "We're over the moon for Emma and Billy, who have been rightly recognised for their fantastic achievements.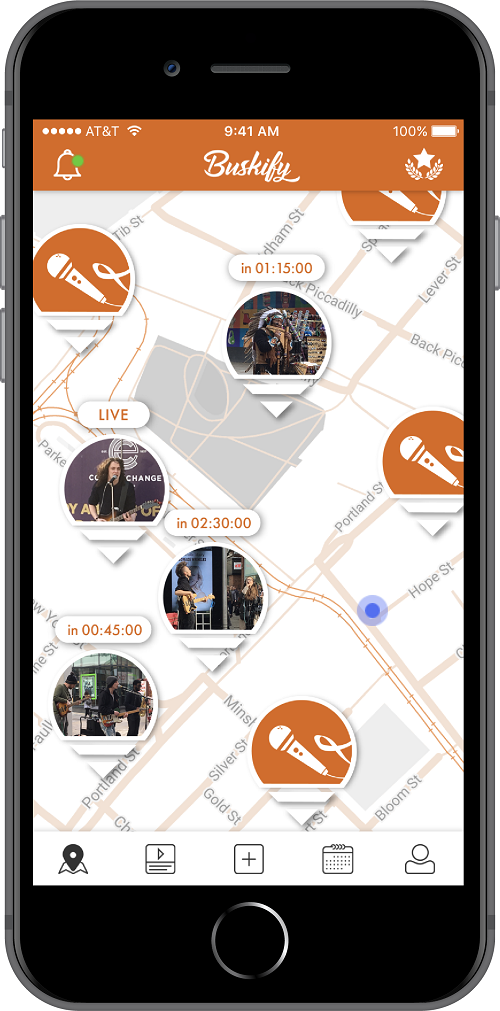 "We pride ourselves at Manchester Metropolitan on developing innovative young graduates equipped with the skills to make a real difference in the emerging digital industries in the North.
"It is this spirit which underpins our new School of Digital Arts, launching in 2021, which will be transformative in plugging the digital skills gap.
"This genuinely interdisciplinary new school will create the space for industry and academia to come together to shape new courses, deliver pioneering research and apprenticeships in everything from filmmaking to VR."
Virtual Reality Bike - Manchester Demonstration from ClicksandLinksLtd on Vimeo.
After exhibiting Buskify at the School of Art Degree Show, Emma was hired by engagement solution developer Sparta Digital as a UX/UI designer. She has since worked with companies such as TFGM, KPMG and Manchester Science Park and big events like Manchester Pride and the city's Christmas Markets – helping to create apps, websites and digital content.
She said: "I never thought that a year after graduating I would be winning the Little Chip Award and working in my dream job role as a UX designer.
"Winning proved to me that all of my hard work and studying has been acknowledged in a professional environment and has given me something I can be proud of which will help me with future opportunities.
"I couldn't have done it without all of the help from the School of Art; Andrea Zapp, my course leader who encouraged me to take this idea forward and guided me along the way; and staff from Digital Innovation who were more than supportive and arranged great workshops tailored to our needs. Being able to put 'award-winning UX designer' on my CV is truly incredible."