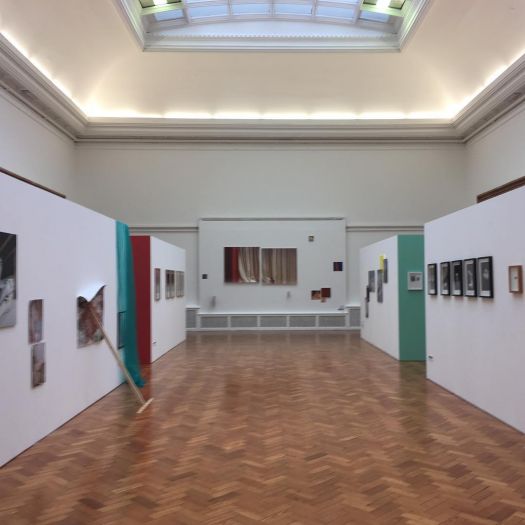 BA (Hons) Photography Year in Review
3 August 2018
A year of competition wins, exhibitions and competition wins for Photography's Class of 2018
This year, BA (Hons) Photography students have been showcasing their work across Manchester and beyond in a range of exhibitions including 'Make-Shift' which saw students exhibiting their works-in-progress at Plant NOMA and 'Pilot' where students took-over Manchester School of Art's Vertical Gallery and Grosvenor Gallery Spaces.
Other ways that students have been involved with institutions across the UK include throughout the year include:
Hayleigh Longman took part in the collaborative 'Our North' Project, which explored the North through themes of tradition and heritage, resulting in her work being exhibited at Open Eye Gallery.
Audrey Albert, Polly Palmerini and Amy Linsdell took part in the Northern Craft Print Fair.
Georgia Osborn took up the role of Digital Designer in Residence with the Chinese Centre for Contemporary Art. During the residency, she curated an exhibition of student work.
Simon Garner held exhibitions at Langworthy Cornerstone, Salford and Plant NOMA.
Nathan Cutler has been shortlisted for the Royal Photographic Society's 'International Photography Exhibition' and Is set to be featured in Intern Magazine's 'Graduate Talent' Feature.
Their year culminated in an exhibition of work in our historic Holden Gallery at the Manchester School of Art Degree Show. The photography portion of the show, called 'Route', is also set to form part of the internationally recognised Voices Off festival in Arles, France. It will show at the Passage des Rêves Art Gallery in Arles between 2-9 July 2018.
During the Degree Show, several students impressed galleries and photography organisations from across the North West at this year's Degree Show with Mia Portet winning the Castlefield Gallery Award, Hayleigh Longman and Nathan Cutler receiving the Redeye Photography Network Award, and Joe Clarkson won the Open Eye Gallery Award.
Mario Popham, a photographer and Manchester School of Art alumni who has worked with the likes of Nike, The Independent and Random House Publications, selected Joe Roper for the Manchester School of Art Alumni Award, while Rebekah Williams was awarded the Dean's Prize for Best Dissertation.
Also, Megan O'Donnell and Chloe Bromilow were awarded the Aon Community Art Awards Award. They will receive workshops and mentoring over a twelve month period, with their work being exhibited at Aon's client suite and auctioned after the year.
Chloe also celebrated winning the Peli Cases Competition. She has won a £5,000 commission with the cases and lighting company. Other shortlisted students include Amy Smithers, Hayleigh Longman, Joe Roper, Joseph Clarkson, Kathleen Dipper, Matt Leaves, Nathan Cutler, Sacha Brisdion and Warren Davies.
Find out more about photography at Manchester School of Art on the courses webpage.