27 March 2008
Engineer wins Microsoft UK contest
£2,000 product design prize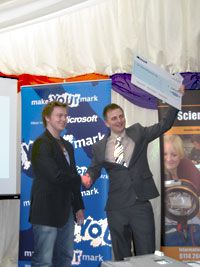 THREE years ago, student Alex Tew won a national young entrepreneur competition – and went on to make his first million!
Now, after meeting Alex on a visit to the University, our own student James Clarke has won the same prize.
James' 'ski-lock' device earned him the £2,000 prize in a competition called Ideas Igloo, organised by Microsoft and Make Your Mark.
The 22-year-old's invention enables skis to be locked together before being secured to a fence or railing, and was judged the best of 17 ideas from across the UK.
Product design
James, from North Wales, a final-year undergraduate in Product Design in Engineering and Technology says he'll use the money to develop the product.
Microsoft's Ideas Igloo was invited to MMU in February by the University's Careers Service and lecturers in the Faculty of Science and Engineering.
We were one of 20 universities visited by the Igloo to promote entrepreneurship in young people.
Alex Tew, the frontman for the tour, is the founder of the 'Million Dollar Homepage', a website that sold advertising space on the internet.
He said: "Six months before I launched the 'Million Dollar Homepage' I was working at my local Tesco earning about £5.30 an hour. Four months later I was earning £4,000 pounds a day, which was pretty bizarre!"

Inspiring
As part of the campaign, students attended business-themed workshops in a giant inflatable igloo and presented business ideas to a panel of judges.
David Balkwill, course leader in BSc Mechanical Engineering said: "The Ideas Igloo's objective is to inspire young people so that they can do their own thing. Sometimes, you can have one idea that can change your life."
If you are interested in becoming an entrepreneur, go to the MMU Careers self-employment website at www.mmu.ac.uk/careers/grads/selfemp.php or go to the website for MMU's own student business incubator - Innospace www.mmu.ac.uk/careers/grads/selfemp.php