14 May 2008
OMEGA takes message to Parliament
Transport Minister backs aviation research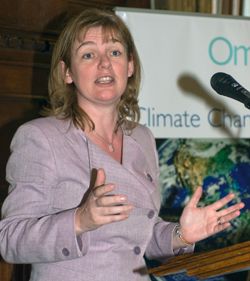 RUTH Kelly, Secretary of State for Transport, has backed an MMU-led research project on the future of aviation.
The £5 million Omega Project is seeking solutions to environmental challenges posed by the growth of air travel – such as noise, air pollution and especially climate change.
It partners the UK's top scientists from nine universities including Cambridge, Cranfield and MMU's Centre for Air Transport and the Environment to work with industry, government and pressure groups.
Speaking at an Omega event at the House of Commons, Ruth Kelly said tackling the aviation-environmental sustainability challenge was crucial to the economy, to British jobs and to the local and global environment.
Best knowledge
Ms Kelly said: "Omega is a very welcome and much-needed partnership, bringing to
bear some of the best academic knowledge available internationally.
"It promises to assist effective policy making and help the aviation industry to become more sustainable. I am looking forward to working with Omega in the future."
Omega, chief executive Roger Garner and his team paid a flying visit to Parliament last week to report on progress of the publicly-funded project set up last year to create a 'one stop shop' of all the research available on the environmental impacts of aviation.
Omega co-hosted a Parliamentary Reception with the Parliamentary Office for Science and Technology to showcase around 40 studies which are now in progress or being completed around environmental, business and operational impacts of aviation.
Impartial information
Roger Gardner said: "This project has become established as the first port of call for academic expertise and impartial information on all aspects of the aviation-environment debate, by industry and policy makers alike.
"Omega's independent expertise stretches across environmental science, aeronautical engineering, economics and air transport management. It is being called upon to inform and stimulate progress in many areas of aviation sustainability, and in particular address the challenge of protecting the environment - but without harming the UK economy.
"This is a tough call as aviation sustainability solutions are not keeping pace with growth."
Studies are being pursued by nine UK universities working with industry, government and non-governmental organisations. The partnership is led by MMU with Cambridge and Cranfield and the other partners are Oxford, Leeds, Loughborough, Reading, Southampton and Sheffield.
Climate science
Among the projects are work into climate science, emissions trading, fuel efficiency, future technologies, fleet turnover, air traffic management, noise attitudes and public engagement and airspace charging. Future conferences are planned to debate alternative fuels and airport air quality. The partnership is also organising workshops and training for industry and policy-makers.
For more about Omega and its activities, please visit www.omega.mmu.ac.uk or contact them on 0161 247 2090 or omega@mmu.ac.uk