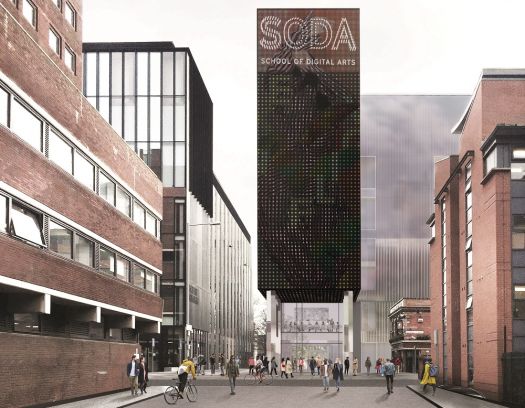 School of Digital Arts building gets planning go-ahead
13 December 2018
The £35m home for creative digital storytelling is due to open in 2021
Plans for the new School of Digital Arts (SODA) building have been given the green light by Manchester City Council.
The Planning and Highways Committee approved development of Manchester Metropolitan University's groundbreaking new interdisciplinary school for creative digital storytelling on Thursday (December 13).
Opening in 2021, SODA is a £35m investment into workspaces, networks, teaching and research that will support the urgent and growing demand for skilled workers in the region's creative and digital industries.
The five-storey SODA building will be located on Higher Chatham Street, adjacent to Manchester School of Art in the Benzie Building, the Students' Union and Salutation pub.
It will provide space for a digital innovation lab, green screens, edit suites, screening space, a media gallery, sound and music studios and production studios.
The front of the building will feature an integrated LED light wall, which could illuminate static images, videos, and digital work produced by students.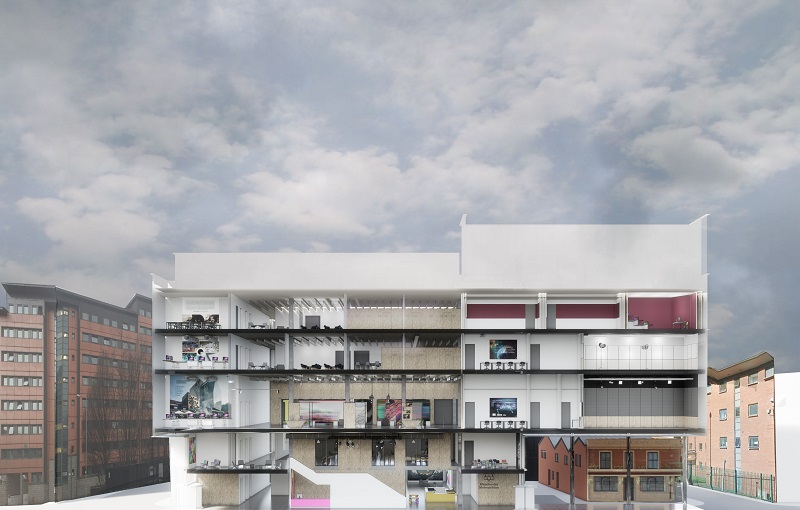 Architects Feilden Clegg Bradley Studios (FCBStudios) – the same practice behind the award-winning Benzie Building – have drawn up designs for the building.
From 2021, SODA will produce over 1000 graduates annually with expertise in disciplines that span film, animation, UX design, photography, games design, AI and more, often working on live projects with industry partners.
Students will choose from a flexible mix of courses designed with those partners: undergraduate, postgraduate and research degrees that run alongside degree apprenticeships, summer schools and short courses.
Vice-Chancellor Professor Malcolm Press said: "Our new School of Digital Arts will drive the next generation of creative talent, meeting the demands of the growing digital economy both regionally, nationally and internationally. We believe that there is nothing in the UK that matches the school in terms of scale, vision and ambition.
"SODA is a fantastic addition to the University's world-class creative offering, sitting alongside Manchester School of Art and the Manchester Writing School, and building on our existing strength in technology, innovation and working hand-in-hand with industry."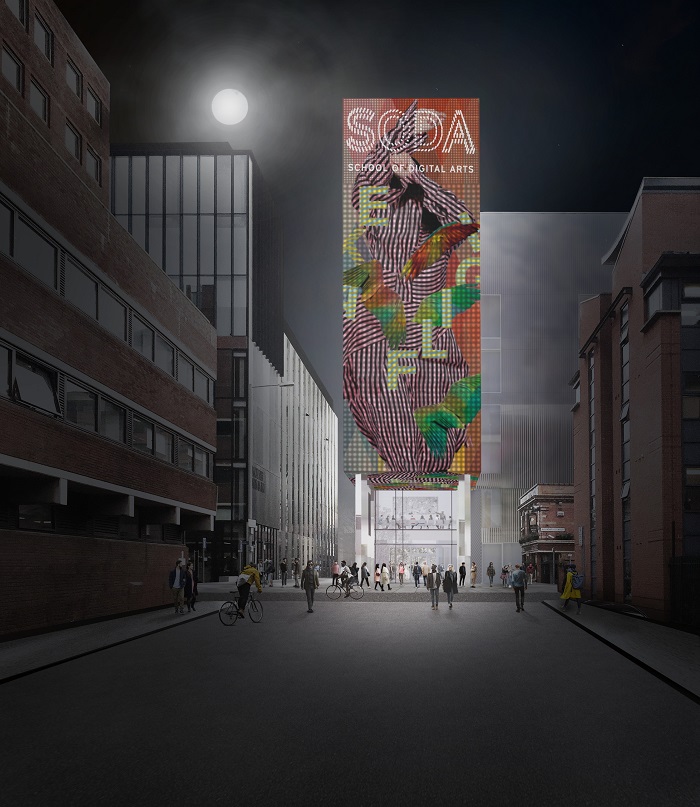 Greater Manchester's digital and creative sector is growing faster than anywhere else in the UK outside London, employing more than 82,000 people and generating over £4.1bn per annum.
Before 2024, it is estimated that an additional 12,000 jobs will be created in this sector, despite a recognised skills gap in specialist digital roles.
The development of SODA will secure the University's role in helping plug that gap, ensuring that Greater Manchester becomes one of the world's most competitive digital cities.
Simon Doody, Partner at FCBStudios, said "We are thrilled for our client, Manchester Metropolitan University, that planning permission has been secured for this educationally significant project. The building will house a new generation of graduates that will develop skills to respond to future shifts in digital media – shifts that are shaping all of our lives. Being our sixth commission for Manchester Metropolitan, it also represents our commitment, as a practice, to this exciting and dynamic institution."
SODA will also join the new Arts and Humanities Building, opening in 2020, which will house the new Poetry Library alongside Manchester Writing School and the Manchester School of Theatre.