Michael Coates
MA, MPhil
Head of Postgraduate Taught, Faculty of Arts & Humanities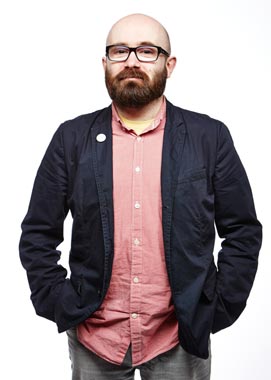 As Head of Postgraduate Taught for the Faculty of Arts & Humanities I oversee the delivery, recruitment, quality and development of all taught MA, MFA and MSc courses in the Faculty. My primary focus in this role is to engage with our postgraduate students in a mutually beneficial relationship to ensure the continued improvement and success of our courses and our students.

These days my teaching is confined to a 2nd Year undergraduate option unit, "The City: Architecture, Art and Society", which deals with the social and political world as it is represented in, and determined by urban environments, specifically the 20th and 21st Century city. I also supervise 3rd Year undergraduate essays for various students throughout the School of Art whose interests intersect with my own.

Since 2004 I have taught at Manchester School of Art first as a contextual studies tutor on BA (Hons) Interior Design, and from 2008 as a Lecturer on BA (Hons) History of Art & Design, from 2010 as Senior Lecturer for Contextualising Practice, and finally from 2015-2018 as Principal Lecturer and Contextualising Practice Coordinator.

My research interests fall in a broad spectrum; from architecture and urban design to 'place' making, and philosophies of experiencing 'space' in our urban environments. My studies largely focus on the domestic environment, the space of home and housing design methodologies. I am principally concerned with the relationship of people other than architects to the architectural process, such as the concept of 'participatory architecture'.

These interests coalesced in February 2013 when I began my PhD part-time at the Sheffield School of Architecture, University of Sheffield. The intended final thesis is now entitled "ARCHITECTS AND OTHERS: Anarchist and radical modes of 'doing architecture' in the UK, 1969-1980". My research has developed as an exploration of anarchism and anarchist modes of organisation as they can be developed in architectural practice. Especially looking at modes of anarchist control in the maintenance, redevelopment and construction of dwellings.


My education in design and architecture began with an undergraduate degree at the Cardiff School of Art graduating with a 2:1, BA (Hons) Interior Architecture in 2002. I moved to Manchester in 2003 (and after 14 years consider myself an adopted Mancunian!) starting my MA in Spatial Design at the School of Art, graduating with a Distinction in 2004.
Projects
I began my PhD part-time at the Sheffield School of Architecture, University of Sheffield in February 2013. This thesis is entitled "ARCHITECTS AND OTHERS: Anarchist modes of 'doing architecture' in the UK, 1969-1980" and addresses the undocumented history and impact of alternative, anarchist and radical moments in English architecture, with a particular focus on the domestic dwelling and the involvement of 'others' in 'doing architecture'. Details…
Research
Michael Coates is a member of:
A selection of recent research outputs.
Books
Coates, M., 2008. 'The Visual Dictionary of Interior Architecture and Design', AVA Academia : London.
Book Chapters
Coates, M., 2018. '"The City, Urban Planning and Architecture"'. In Adams, M., Levy, C. (eds.) Palgrave Handbook of Anarchism, Palgrave Macmillan, London.
Journal Articles
Coates, M., 2015. 'To Hell with Architecture: An Architecture of Anarchism', Anarchist Studies, 23 (2), pp. 47-67.
Presentations
Coates, M., 2015. 'Radical Architecture: Revolution and Utopia in 1970s England', Graduate School Symposium, Sheffield School of Architecture, 14th May 2015.
Coates, M., 2014. 'To Hell With Architecture', To Hell With Culture, Manchester School of Art, 30th October 2014.
Coates, M., 2013. 'The Architects' Revolutionary Council: Radical Architecture in England', "Transgressions" - Architecture Humanities Research Association, University of the West of England, Bristol., 24th - 26th November 2013, in Architecture and Culture.
Coates, M., 2006. 'Participatory Housing: a post-industrial opportunity', 'International Forum on Urbanism 2006, Beijing, China, October 2006.