Sue Fox
B.A.,P.G.C.E.
Lecturer
Film and Media Studies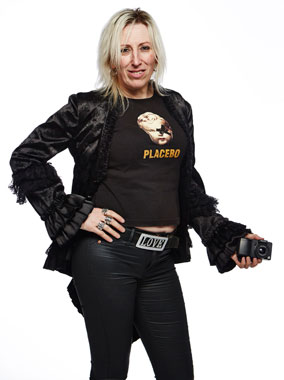 Fox is known for her taboo images of the dead in a three part series called 'VILE BODIES' on contemporary and international photographers in 1997 & 2000. Included in the series are Jenny Saville, Peter Witkin, Andres Serrano, Sally Mann, & Nick Wapplington. She appeared in 'Gallery Explorer 38' a documentary in 2001, showcasing artists at Rogue Artists Studios, Comme Ca Art PR, and artists in Hohlmann, Germany. Fox's images appear in 'The Works' a Granada series on Art with Anthony Wilson featuring Photographers and 'Flux' magazine in 2002. Fox was flown to Scotland to Tern TV studios for two discussion programmes on SEX and DEATH on the 'Faith Without Walls' series in 2002. In 2010, Fox appeared in a documentary film for "Tonight with Trevor Macdonald" on ITV 1 in 2004. This programme looked at alternative lifestyles and shopping habits and cultural dispositions. Fox appeared in a film for ARTE, a German/French cultural channel, "Sterben Im Museum". "L'Expose du Mort". ("The Exposition of Death") featuring the works of Christian Boltanski, Gregor Schneider, & Walter Schnels.

Fox has exhibited in the UK and abroad including:- Central Academy of Fine Arts, Beijing. Guangzhou Academy of Fine Arts, China. Deutsches Hygiene Museum, Dresden, Germany. Museum of Fine Arts. Kunstmuseum, Bern, Switzerland. Manchester Museum, The University of Manchester. Museum de Arbeit, Hamburg, Germany. Swiss National Museum, Munich, Zurich. Historiches Museum Bielefeld, Germany. Australian Centre for Photography, Sydney. Saidye Bronfman Centre, Montreal, Canada. The Miro Foundation, Barcelona, Spain. Kvindmuseet I Danmark, Denmark. National Museum of Photography, Film & Television, Bradford.

Fox has her work in many publications including her own book 'Post Mortem' in 1997. Others include:- 'A Contemporary Western Book of the Dead' by Charlotte Rodgers & Lydia Maskell 2012. 'Fifteen Plus One' edited by Alan Dunn 2007. 'The New Visbility of Death' by Prof. Thomas Macho 2007. 'Art and Obscenity: On the Margins of the Aesthetic in 20th century Western Visual Culture' by Professor Mey 2007. 'Six Feet Under' – Autopsy of Our Relation to the Dead by Bernhard Fibicher 2006. 'Still Life' a publication by Iris, Staffordshire University 2006. 'Revealing Art' by Prof. Matthew Kieran 2005. 'Trangressions - The Offences of Art' by Anthony Julius 2002 (Thames & Hudson). 'Photography: A Critical Introduction' by Liz Wells 1996. 'Photography – A Crash Course' by Dave Yorath 2000. 'Vile Bodies – Photography & the Crisis of Looking' by Chris Townsend 1997. 'Flying Over Water' by Peter Greenaway 1997. 'The Dead' by Val Williams & Greg Hobson 1995.

Fox has given many conference papers such as:- "Death, Dysfunction & the Olympic Ideal", a symposium and live web conference at the Australian Centre for Photography, Sydney on 9th September 2000. Speakers included Farrell & Parkin, Jon Baturin, Dieter Huber, Bill Jacobson, Rebecca Scott-Bray, Sue Fox and Diana Thorneycroft.
"Death, the Final Chapter", a paper given at Manchester Metropolitan University, Geoffrey Manton Building, Lecture Theatre L1 in 2001 in a program with Tracey Emin. "Redeye Talks –Spring 2001", a lecture called 'Taboo' about her latest work at the Richard Goodall Photographic Gallery, Manchester. "The Business of the Flesh – Art, Science & Access to the Human Body", Oxford, Ruskin School of Art, with Dr. Ruth Richardson, Jane Wildgoose and Professor Brian Hurwitz, in 2002. Speakers included Simon Costin, Sarah Simblet, and Fox. "Escape Your Garb" workshop at The Circle Club, St. Anne's Square with a paper on 'The Art of Cross-Dressing Through-Out History' in 2003. Funded by Redeye Photographers Network.
"Explore Expand Exchange" 2004 Artist Lecture Days@ The Whitworth Art Gallery, speaking on illness and the visceral body via imagery in 'Face Your Flesh' that illustrated the permanent 'body' collection held at Manchester Museum.
"The New Visibility of Death", Berlin, Germany at Ahorn-Greineisen, with Professor Tomas Macho, 2005. Speakers included Jeffrey Silverthorne, Hans Danuser, Rudolf Schafer, Birgit Richard, Teresa Margolles, Rebecca Scott-Bray and Sue Fox. The paper was entitled 'Contemplations on the Corpse' and appears in 'Die Neue Sichbarkeit Des Todes'.
"National Youth Theatre" at the Lowry Theatre, Manchester 2008. A talk on 'aspects of death' for the team of young actors in their production of 'Macbeth', directed by Jon McGrath (Ikebana Productions).
"The Genital Portrait Series" a public talk on (Art & Cyber Sex) @ 'ART' curated by Michael Mayhew in 2008.
"The Muscailt Spring Arts Festival" Galway, Ireland 2009. Performance/lecture/and guest speaker on 'The Decomposition of the Flesh' @ The National University of Ireland.
The Allery – Whalley Range, Manchester A pop-up art Gallery, a made in Art event, curated by Michael Mayhew
June 1st - June 5th - 2012

Recent performances include:-
'Ron Athey, Gifts of the Spirit: Automatic Writing'. Fox performed as a hypnotist and performer with Ron Athey and led body-orientated workshops like Tai Chi Qigong and guided meditations for the Fierce Festival @ TROVE, The Old Science Museum, Birmingham, April 2012. Another production of Ron Athey's 'Gifts of the Spirit' preceeded the Birmingham show and was held @ Manchester University's Whitworth Hall, in June 2011. I performed with Ron & Othon Matamagras as a hypnotist, trance and seance leader and workshop facilitator for 25 student and artist performers.

http://theendofbeing.com/2011/07/31/automatic-writing-as-performance-ron-athey-sue-fox-discuss-gifts-of-the-spirit/

http://www.independent.co.uk/arts-entertainment/art/features/ron-athey-the-masochist-who-puts-writers-under-his-spell-7615265.html

http://gallery.2gyrlz.org/index.php/gifts/docbyro

Fox performed hypnosis in a performative collaboration with Lundahl & Seitl at The Fierce Festival, Warwick Arts Centre, Coventry in October 2013 alongside such artists as Franko B. The Joshua Light Show and Heather Cassils.

http://www.youtube.com/watch?v=Dd9w9SB71RU
http://www.lundahl-seitl.com/
https://soundcloud.com/riksutst-llningar/lundahl-seitl-the-viewer-as-a

Fox has written six novels, some 600,000 words since 2008-2011 on the subject of 'art, sex and dark minds'. She has been working on her first novel (writings that are edited from the 6 novels), and looking for a major publishing deal in 2014. Fox has been publishing extracts of her diaries via the online magazine Paraphilia for transgressive literature by global writers. She also gives performances and readings of her novels in and around Manchester bars, clubs, art venues and universities.

Fox has written in the past for the leading photography magazine 'Hotshoe International' 2000, for editor and leading photographic historian Dr. Chris Townsend and also worked on Manchesters 'City Life' in 2003, with a year long column as the 'Witch Doctor' on health and alternative lifestyles. Fox's writings appear in 'Antique Children' 2010 Issue One, 'SPIT' ed. Jim Lopez (U.S.A.) and Volume 3. 'The Doppleganger'. Fox performs in a clown troupe called the 'Dirty Honkies', who have toured the UK & Ireland, with entertainers and performers such as David Hoyle, Ron Athey, Michael Mayhew and Alexis Milne. Fox is currently working on new photographic images about 'the visceral body' and a series on 'abandoned buildings' exploring the peripheries of access points. Fox is writing poetry and collating old poems into surreal collections. Fox is making art and doing film projects with her artist partner Iain Pearson and was commissioned to make an avante garde music video set in a church, for Magdalena Solis, a sonic and visual arts band, based in Brussels.

ENCOUNTERING CORPSES CONFERENCE @ Manchester University Museum
on Wednesday 26th March 12 noon - 7pm
http://www.hssr.mmu.ac.uk/hip/encountering-corpses.
I gave a conference paper as a film called 'The Visceral Tear' recounting the mortuary experience and giving meaning to the images.

PAUL KOUDOUNARIS & SUE FOX in an exhibition @ The Sacred Trinity Church, Salford from 28th March - Thursday 10th April, 2014, curated by Fox, Malarky and Amor.

http://www.hssr.mmu.ac.uk/hip/encountering-corpses/heavenly-bodies-art-exhibition

http://www.mancunianmatters.co.uk/content/180368150-i-see-dead-people-mancunian-buddhist-reveals-grisly-corpse-encounters-photo-book-%E2%80%93

http://www.hssr.mmu.ac.uk/hip/video-encountering-corpses


Inclusion and full participation in Ph.D's (and numerous undergraduate interviews/dissertations).....

The Eschatology of the Image by Dr. Rebecca Scott-Bray
(The University of Sydney, Australia)

Visual Codes of Secrecy : Photography of Death and Projective Identities by Dr. Julia St. George (University of Woolongong)
International publications/papers:-

Up & coming news.....

International paper in Germany

"Zeichen oder Leichen?" by Kristin Marek
Digitale Entkörperlichung versus Materialität in der Kunst" (Signs or corpses? Digital Disembodiment versus Materiality in Art) published by Caronline Y. Robertson-von Trotha u.a. (Hrsg.): Computertechnik und Sterbekultur (Hermeneutik und Anthropologie) 2013, 75-94.


"Between Subject & Object" a conference and exhibition curated by Josephine Higgins, Kathryn Smith and Penny Siopis, 8-30th August 2014 @ Michaelis Galleries, University of Cape Town, South Africa showing with Silverthorne, Walter Schels, Jordan Baseman and others.
Research
Sue Fox is a member of the Media Research Centre.
A selection of recent research outputs.
Other Outputs
Cuthbert, V., 2010. 'Judge at Kino film festival', Involved in judging the Best International Animated film category at the Kino film festival 2010.