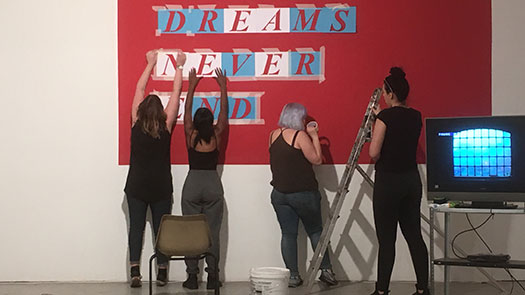 Postgraduate
Curating Platform
The Postgraduate Curating Platform is designed to encourage exchange and joint projects that facilitate an engagement in creative and critical dialogue and collaborative mind-mapping processes between students from different institutions worldwide.
Throughout the MA/MFA Contemporary Curating programme, students are encouraged to explore the shifting relationship between artist-institution-curator-critic/writer which forms a central element to the course. How diverse methods and experimental processes continue to be relevant in curatorial practice is a key emerging aspect of the programme.
One aim of this collaborative and discursive space is to provide a distinctive, vibrant environment within a laboratory context for inter- and trans-disciplinary activities.
Meet Our Experts
Dr Gulsen Bal

Gulsen recently took on a new role as Course Leader of MA/MFA Contemporary Curating Programme and joined Manchester School of Art as Senior Lecturer in Curating (Art Theory & Practice) in 2020. She is a curator and an art and visual culture theorist and the founder and inaugural Director of Open Space, the influential art forum based in Vienna.