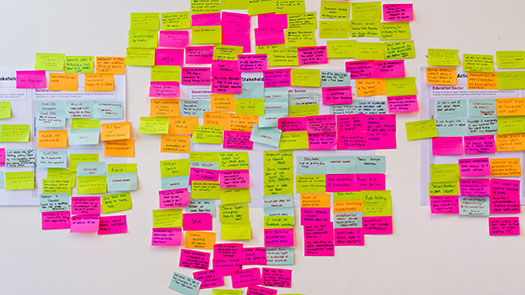 Design Innovation
MA Design Innovation considers how design acts as a catalyst for innovation leading to new products, services and user experiences. It focusses on design thinking approaches, to address contemporary societal and business challenges to develop a rich understanding of where design can add value. It will provide you with the skills to strategically apply design to solve complex problems in the global market.
The application of design thinking is explored with the latest research and practice in design innovation, design management and design strategy, that supports you to develop a holistic view of design and creatively apply the theory in your specialist area. Design research, empathy and user-centred development are at the core of the programme that reveals unmet user needs and, in turn, generate insights that lead to desirable products and services in a commercial and societal context.
The course provides a balance of theory and practices through a series of lectures, seminars, workshops, cross-disciplinary collaborations, research visits and live-projects to provide you with comprehensive knowledge of design innovation while giving practical skills to excel professionally.
Features
—

This programme will provide a research-informed and cutting-edge curriculum that maximises connections with the creative industries in the region and beyond, providing opportunities for engagement with the 'real world', through live projects and engagement with practitioners.

—

Dedicated spaces for the postgraduate community have been developed to enable the postgraduate community to flourish. These spaces, for thinking and practice, are located at the heart of Manchester School of Art, allowing easy access to an extensive range of workshops where the combination of traditional and state of the art equipment opens up a world of exciting possibilities.

—

You will be taught by research active staff who are part of the Manchester School of Art Research Centre and experts in their field.

—

The University library has outstanding Art and Design holdings, including a special collection of artist's books and ephemera.
Course Content
Year 1
(

MA Full-Time

)

MA Design Innovation comprises of four core units plus one option unit, totalling 180 credits.
Design Thinking
This unit introduces an applied understanding of how design can be used as an iterative process for creative problem solving. It will enable you to understand how to apply design thinking processes to your specialist area through understanding users, challenging assumptions, redefining problems and creating innovative solutions to prototype and test. The unit will also provide a broad introduction to research methodologies, strategic research planning and research design. A range of design thinking tools will be introduced and explored before you undertake an in-depth project that provides opportunities for experimentation leading to innovative solutions.
Design Innovation
This unit introduces the core principles of design innovation and develops a broad understanding of how design can be used as a strategic resource to drive innovation. It will explore a range of design processes and expose their application in different project settings. An interrogation of the spectrum of design innovation approaches will enable you to develop knowledge and skills in their use in academic and professional contexts. It will also develop knowledge of how design strategy and management can be used as a strategic resource in the public and private sectors and as a result enable you to be able to critically analyse the role of design in potential political, economic, socio-cultural and technological futures.
Design Futures
This unit provides an in-depth understanding of the scope, nature and role of how design can be used to shape the future. A series of future-focussed tools will be explored from a creative perspective to understand how to employ design as a catalyst for new products, services and experiences that address contemporary societal and business-related challenges. It also will examine the role of design at strategic, tactical and operational levels and support an understanding of the relationship of the user to strategic goals over a range of time horizons. The unit will culminate in design provocations that demonstrate how design can engage with multiple futures that blend technology and business needs while providing user-focussed innovative solutions.
Synthesis Project: Design Innovation
The self-directed unit provides opportunities for you to direct your own learning in line with personal interests and career aspirations. It enables you to initiate, develop, resolve and disseminate a significant body of work alongside opportunities for collaborative, outward facing, or international learning experiences. It provides a significant opportunity for you to synthesise prior learning and apply this in an ambitious way that will evidence their knowledge, skills and understanding of the role that design plays in innovation.
Resources
We have developed a dedicated postgraduate area occupying an entire floor of the main School of Art building, offering an exciting space to be, both intellectually and practically. The centre is located in the newly refurbished Chatham Tower with studios, design laboratories, seminar rooms and extensive workshops that form the nucleus of this vibrant, cross-disciplinary learning environment.
Find out more about Manchester School of Art's facilities.
Student Work
Visit our online MA Show galleries to see examples of recent work by our postgraduate students.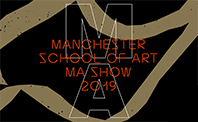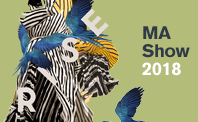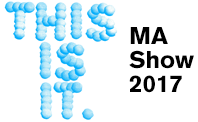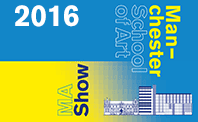 Graduates
The course aims to cultivate highly motivated, independent and creative thinkers who can transfer their skills into the creative marketplace, as entrepreneurial innovators, freelance practitioners and innovative team players.
Making an Application
Entry Requirements
2:2 in Design or cognate discipline (e.g. creative arts, management, marketing, branding, engineering, etc). Equivalent EU/international qualifications are also accepted. Applicants who do not meet these criteria will be considered on a case-by-case basis. Other professional qualifications will be considered on merit and/or with relevant professional experience.
Overseas applicants will require IELTS with an overall score of 6.5 with no less than 5.5 in any category, or an equivalent accepted English language qualification.
How to Apply
Please apply online using the link below.
Fees
2020 Entry
UK and EU students
UK and EU students: Full-time fee: £9,250 per year. Tuition fees will remain the same for each year of your course providing you complete it in the normal timeframe (no repeat years or breaks in study).
Non-EU and Channel Island students
Non-EU international and Channel Island students: Full-time fee: £17,000 per year. Tuition fees will remain the same for each year of your course providing you complete it in the normal timeframe (no repeat years or breaks in study).
Additional Information
A Masters qualification typically comprises 180 credits, a PGDip 120 credits, a PGCert 60 credits, and an MFA 300 credits. Tuition fees will remain the same for each year of study provided the course is completed in the normal timeframe (no repeat years or breaks in study).
Eligible alumni receive a 10% discount on their postgraduate tuition fees. Find out more about our Alumni Loyalty Discount.
Course Leader
Martyn Evans
Professor of Design
Head of Manchester School of Art Research Centre


—