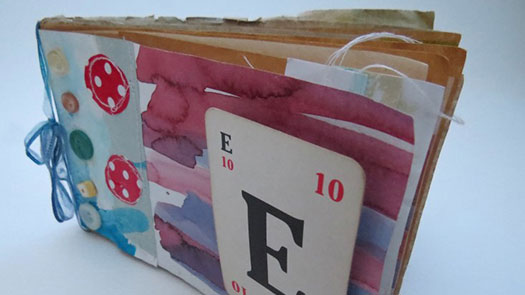 Saturday 29 April 2017
Sketchbook Making
With Priscilla Jones
10am—4pm
This workshop will introduce skills to make your own personalised sketchbook or journal through experimentation with stitching and collaging techniques. Have fun creating a unique, bespoke book which is a piece of art in itself!
Priscilla Jones is an international artist who explores mixed media in her textile practice - she has been teaching for 19 years in Higher Education and delivers many workshops and courses to all levels of ability including the less experienced with a passion for textiles, and those who have already developed skills and want to progress with their own practice.
During this workshop, Priscilla Jones will share with you the creative techniques developed through her own experimentation – so you can create your very own finished book.
This workshop will introduce you to the wonders of making your very own sketchbook using pages you have created yourself. You will explore the possibilities of stitching and collaging papers to make the pages of your book and then create a decorated hard cover.
This workshop is for adults, all materials are provided.
Course Fee: £45