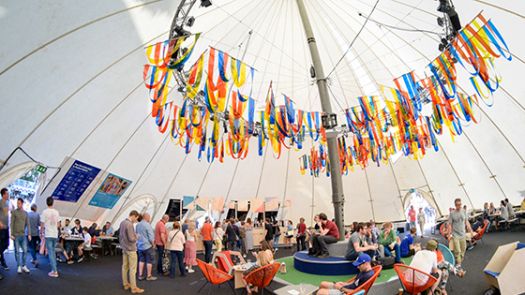 Student designs take centre stage at Manchester International Festival
3 July 2018
Unit X participants design furniture and lighting installations for city's biennial festival
Manchester International Festival (MIF) is an internationally renowned festival of origional, new work and special events. The Festival is stages every two years in Manchester, at venues across the city. We've been collaborating with MIF in various ways at each biannual festival, since it began in 2007.
In 2016-2017, students from across a range of disciplines, as part of undergraduate 'Unit X' and postgraduate 'Professional Platforms' modules, were involved in a variety of projects where they worked with students from differing courses to design and create elements for the public Festival Square (the central hub of festival activity): furniture, a light installation, architectural interventions and an overall design aesthetic.
Led aesthetically by the design of Paloma Gormley (Practice Architecture) and Nicholas Henninger (Officer For Crafted Architecture), and advice from Ferrious Design LTD, students were tasked with taking a holistic design approach to Festival Square, using a range of designated 'house materials - and to update and improve the interiors of the Pavillion ad the Glass House.
In the designs chosen to be featured in the Square and Pavillion, community engagement was a key feature. Furniture and lighting designs were made by members of the public with no previous experience. Through a number of special workshops, led by OH OK LTD - a design agency that believes in participatory placemaking - the furtniture and artifacts designed by he public, with help from students.
Our students designs were on diplay throughout the Festival. One involved student, BA (Hons) Interior Design student Tom Noonan, called the experience his 'favourite and most pivotal industry-set' brief.
You can find out more about Unit X on the module's webpages.