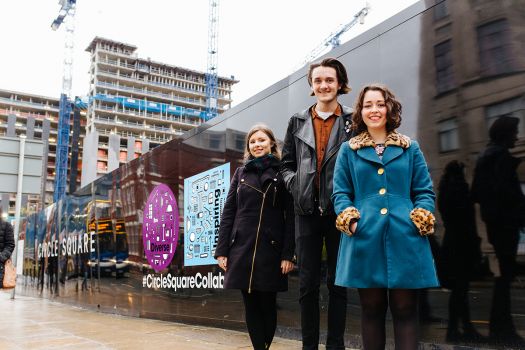 Students showcase work with Bruntwood
3 July 2018
Manchester School of Art's links offer career and exhibition opportunities
Bruntwood are a family-owned property company with over 100 commercial properties in the North West, Yorkshire and the Midlands.
We have been working with Bruntwood for over five years on a range of projects giving our students opportunities to exhibit their work and gain industry experience. In 2016-17, Bruntwood collaborated with the greatest number of our students to date. They have also employed one of our students in a design role, came in to give guest lectures to Architecture students and commissioned
Two recent student projects include:
Circle Square Hoardings
Circle Square is a joint project between Bruntwood and Select Property Group at the heart of the Corridor Manchester area. A design brief asked students on the Unit X module to create designs for hoardings around the new site which referenced their core values of architecture, greenery, community and collaboration.
Ten groups of students, mainly from Illustration with Animation, and Graphic Design degree courses were invited to pitch their ideas to Circle Square's senior project team at their offices A winning group was selected to work with a design agency to refine their ideas prior to them actually being printed and displayed on the hoardings along Oxford Road in the summer/autumn of 2017.
Inspired by Ceremony
Bruntwood tried something new with us and collaborated with staff and students from Animation, Filmmaking and Photography courses on a Unit X brief response to the Manchester International Festival (MIF) production by artist Phil Collins.
The MIF team came to talk to students about the 'Ceremony' event, while a historian at Manchester Metropolitan University explored Fredrich Engels and his legacy, while Bruntwood provided guidance on using their screens and spaces.
The students' short films were then shown on a large digital wall in the newly refurbished NEO building in the city centre in May 2017. The films were seen by industry professionals based in the building, their clients, as well as by hundreds of people passing by. Bruntwood were so impressed that they asked for the films to be show later that summer.