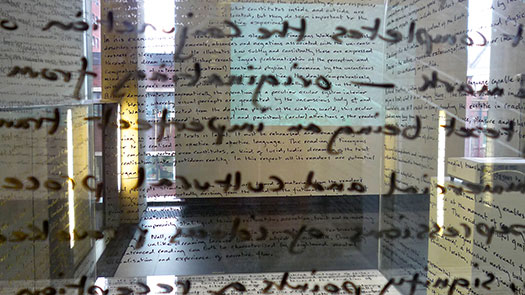 Postgraduate Research
The Arts & Humanities Graduate School through the Manchester School of Art's Research Centre, offers research degrees in the practices, professions, histories and theories of art and design and cognate disciplines. These can be studied on a full and part-time basis at Masters and PhD Level.
The Graduate School brings together the three different postgraduate research degree programmes in Manchester School of Art, Humanities Languages and Social Science and the Manchester Fashion Institute. By developing our strengths the merger presents a very real opportunity to signal the significance of public and outward facing research and the importance of multidisciplinary, collaborative, applied and practice-based research methods alongside traditional disciplinary approaches. The Graduate School boasts over one hundred nationally and internationally recognized theorists, practitioners and professionals from disciplines across the full range of the Art, Craft, Design, Media, Architecture, Humanities and the Applied Social Sciences.
Research projects are usually proposed by applicants although some funded scholarships are attached to external partners. Projects are linked with the research hubs and groups focused around recognized areas of research excellence in Manchester School of Art Research Centre. The Manchester School of Art pioneered the practice-led research degrees and today we provide a nationally and internationally recognized environment for postgraduate research. We have long-standing relationships with galleries, museums, and the creative industries in the North West region and beyond.
Research Study
The Arts & Humanities Graduate School (AHGS) has a thriving community of approximately 250 students who are situated close to the centre of Manchester on the All Saints Campus in the Geoffrey Manton and Righton Buildings. The Researcher Development Programme provides research training, skills development opportunities to facilitate with workshops on the various progression stages of the Doctoral experience. Delivered to all AHGS students topics also include Methods, Theories and Practices; Student presentations; Research Impact; Applying for Research Funding; Publishing and dissemination; Public Speaking; Digital Humanities and 121 digital support as well as a Writing Group and Research Group led seminars, events and reading groups. Testing Time is an event held over 2 weeks in June for practice-based students and features exhibitions and crits. These are complemented by the AHGS Annual Symposium.
Every student is supervised by a Director of Studies and at least two subject specialists. Your research is supported, developed and challenged through studio and learning cultures, specialist tutorials and personal tutorials. Elements from the taught MA programme, such as theory courses are also available. Researchers are encouraged to contribute to seminars and conferences and there are opportunities to exhibit work. Financial support from is available for research expenses, field work, dissemination and conferences.
Independently assessed progression stages alongside regular tutorials and an annual review ensure smooth advancement through the research degree. You keep a personal development portfolio to assist you in contextualising and reflecting upon your work.
Your research practice – writing, making, reading, discussion – defines everything that you do. The practice will result in any agreed form that is capable of producing evidence of an appropriate level of achievement – visual, written, aural or digital. Studio-based submissions are accompanied by a written critical report.
All programmes commence towards the end of September but there are enrolment windows in January, April, and July. The Researcher Development Programme and other events and taught elements normally take place on Wednesday of each week.
Manchester Metropolitan University is a member of the North West Doctoral Training Consortium. Students can join with people from other universities in the Consortium in training and events across the region.
Prologue
Prologue is a series of events, talks and workshops taking place from May until July 2017. It celebrates the new Graduate School of the Faculty of Arts and Humanities. Research degree students have been asked to propose activities that demonstrate the breadth of their research interests.
MA by Research
Study undertaken at masters level runs for a year (full-time) and explores aspects of knowledge at the forefront of an academic or professional discipline. Students are expected to demonstrate originality in the application of knowledge, and to gain understanding of how the boundaries of knowledge are advanced through research. They will be able to deal with complex issues systematically and creatively.
A MA by Research thesis will not normally exceed 30,000 words (excluding ancillary matter such as footnotes). When the submission is accompanied by material in other than written form, the written component should normally be within 10,000 – 15,000 words.
Master of Philosophy
(

MPhil

)

The degree of MPhil entails a longer research programme than the MA, allowing greater scope for subject, methods and critical enquiry. It continues for at least eighteen months of full-time study. For many it is a bridging stage between study at masters and at doctoral level.
Doctor of Philosophy
(

PhD

)

Doctorates are awarded for creating, interpreting and communicating knowledge that extends the forefront of a discipline or of professional practice, through original research and critical thinking. To achieve the award, the student will have demonstrated extensive scholarship in their discipline or area of practice and shown mastery of subject-specific intellectual skills.

Traditionally the PhD was examined solely through a written thesis but now the thesis can include the student's own creative work. AHGS offers a number of routes to a PhD from a wholly written thesis of 80,000 words to PhDs by published work or PhD by Professional Practice. See the Research Degrees Regulations for further details.
Fees & Applying
For 2016/17 the MIRIAD research degree fees are—
Home/EU (Part-time) £2060
Home/EU (Full-time) £4121
Overseas £13300
Also see details of our Current Studentships.
To apply, please download the application form available on the How to Apply page. For further information and advice please contact the Research Degrees Administrator.
Applications close on 31 January
Manchester School of Art researchers contribute to report
North West Consortium Doctoral Training Partnership
(

NWCDTP

)

Manchester Metropolitan University is a member of the North West Consortium Doctoral Training Partnership (NWCDTP) which was awarded £14 million in 2014 by the Arts and Humanities Research Council (AHRC) to train skilled researchers in arts and humanities.

The partnership is led by the University of Manchester and other members are the Universities of Keele, Lancaster, Liverpool, Salford and the Royal Northern College of Music. In addition it has eight non-academic partners: BBC, FACT, Home, Tate Liverpool, Staffordshire Archives, MOSI, Future Everything, Opera North.

They will award around 200 PhD studentships over a 5 year period. Students are also offered placement opportunities and additional skills training, working alongside partner organisations including museums, galleries, cultural organisations and businesses. The development of broader skills such as partnership working, language skills and experience in working outside academia is also encouraged. There is also joint supervision of students, sharing of resources from across the consortia, further activities such as student events, conferences and the fostering of peer support networks.