Adam Griffiths
Lecturer
Graphic Design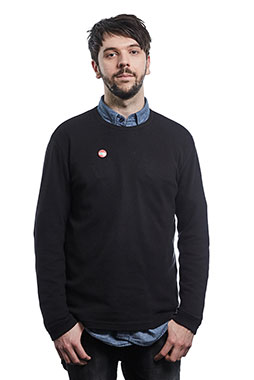 Adam Griffiths is a designer, art director and full time lecturer in Graphic Design at Manchester School of Art.

Adam runs his own design practice from Manchester and has worked with a diverse range of clients such as Red Bull Music Academy, Sony Music, JD Sport, Nightcolours Recordings, Film4, Fabric London, Space + Time Records as well as working on a range of projects as Creative Director at Sony RCA.

He has collaborated with a range of organisations including The International Anthony Burgess Foundation, Le Mundaneum Belgium and Art Licks Weekend London.

Adam's key areas of interest and research revolve around visual culture, curation, image making and self publishing within design practice.


-

Through a range of media, my practice occupies a cultural space between the physical and digital worlds, with a recent focus surrounding image anarchism in relation to the found image.
I'm interested in the harvesting and dissemination of digital images through online practices, re-presenting these back into the meatspace, enhancing a close familiarity between the two states.
Research
A selection of recent research outputs.
Exhibitions
Griffiths, A., 2016. Mapping Knowledge: Understanding the World through Data, Mundaneum Museum, Mons, Belgium, 27th June 2015 – 29th May 2016.
Griffiths, A., 2016. Squashing Vibes - Art Licks Weekend, The Peckham Pelican, London, 29th September 2016.
Artefacts
Crewdson, L., Griffiths, A., 2017. 'Forme Journal', Artefact.
Griffiths, A., Emergency Meeting Collective, 2016. 'Squashing Vibes', Book curated by Emergency Meeting Collective, Art Licks Weekend - Launched at The Peckham Pelican.
Books
Burgess, A., 2018. 'Obscenity & The Arts - Anthony Burgess', Pariah Press.
Internet Publications
Connolly, J, 2016. 'Ra-Bear & RELIK', People of Print, http://www.peopleofprint.com/publication/ra-bear-relik/.
Bourton.L, 2016. 'Ra-Bear's luscious, considered and contemporary graphic design', It's Nice That, http://www.itsnicethat.com/articles/ra-bear-graphic-design-051016.