Kirsteen Aubrey
Education Lead: Design Department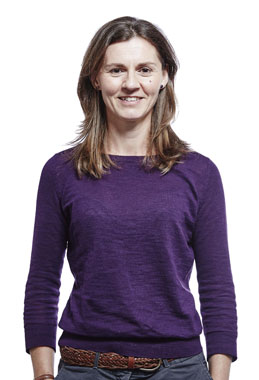 Kirsteen is currently a Faculty Manager for Employment, Employability and Enterprise, looking at methods to develop, implement and enhance employability skills and student opportunities within the curriculum.

Kirsteen joined Manchester School of Art in 2004, having been Programme Leader for Glass & Ceramic Course at the University of Sunderland. Between 2012- 2015 she was Joint/Sole Programme Leader for the Three Dimensional Design Programme at Manchester School of Art. She has previously taught in New Zealand, and has held various External examining positions; currently she holds this post at University of Sunderland: BA(Hons)Glass and Ceramic Programme.

Glass:
Her glasswork explores handmaking and digital technology and features in "New Technologies in Glass" (V Cutler).
Kirsteen has collaborated with Alice Kettle and Amanda Raevetz to exhibit at Royal Scottish Aademy (VAS, 2015). Other selected exhibitions include "Material Matters"(2014), "Seamless" (Slovakia, 2013), "The Glass Journey" (2012) and Lednicke-Rovne Glass Symposium in Slovakia.
Kirsteen also explores Glass in relation to Healthcare, particularly Dementia and Aging. Here, she has presented her research at the European Conference on Design4Health (July 2015), and has previously co-presented papers on the impact of Craft and Design within Arts for Health (Making Futures,2013; CARPE, 2013).

Pedagogy:
Kirsteen is currently undertaking a Doc. Ed. at MMU and is a Fellow of HEA.
She successfully attained two Fellowships from the 'Centre of Excellence in Learning and Teaching' and 'Teaching and innovation'(2014 and 2015). The former led to research into material assumptions across Glass, Fine Art, Photography and Textiles; the latter project is co-led with Liz Wheeldon- Wyatt and explores inclusivity, flexibility, access, diversity and retention of students as they transition from secondary to teritiary education. She has successfully submitted papers for various conferences, including Group for Learning in Art and Design, CELT (2015) and RAISE in 2016.
Research
Kirsteen Aubrey is a member of:
A selection of recent research outputs.
Exhibitions
Aubrey, K., 2015. Visual Arts Scotland, 2015, Royal Scottish Gallery,Edinburgh, 7/2/2015.
Webb, J., 2011. Pairings, MMU Special Collections, Otter Gallery Chichester, Fairfield Mill, Cumbria, September 2010 -.
Aubrey, K., 2010. The Glass Journey, Special Collections, Manchester Metropolitan University, Aug 15th- Dec 16th 2011.
Aubrey, K., 2008. Reflective Stories, Holden Gallery, Manchester School of Art, Nov 08- Dec 08.
Aubrey, K., Artefact members, 2006. Artefact, Chatham Gallery, Manchester Metropolitan University, Sep 06.
Aubrey, K., R. Wilson, 2006. Inspired by Nature, Waterside Arts Centre, Manchester, Jan 06- Mar 06.
Aubrey, K., 2005. Showcase, Paperchase, Manchester, Oct 05.
Aubrey, K., Cohesion members, 2004. Urban Interiors, Cohesion London, Oct 04.
Aubrey, K., 2003. Blast, The Gallery, Cork Street, London, Mar 03.
Aubrey, K., 2003. Density and Light, Hannah Peschar Sculpture Garden, May 03- Oct 03.
Aubrey, K., 2003. London Art Fair, London Art Fair, Mar 03.
Aubrey, K., 2003. The State I'm in, Northumbria University, Feb 03.
Aubrey, K., 2002. Diversity, National Glass Centre, Sunderland, May 02.
Aubrey, K., 2001. Pathways, Mezzanine Gallery, Jun 01- Sep 01.
Aubrey, K., 2001. Sunderland Glass Connections, National Glass Centre, Sunderland, Nov 01- Jan 02.
Aubrey, K., 2000. Glass Exhibition, Lednicke-Rovne, Slovakia, Jul 00.
Aubrey, K., 2000. Public Arts Laboratory/ LDI, Museum of Science and Industry, Manchester, Feb 00.
Aubrey, K., 2000. Spring Open, National Glass Centre, Mar 00.
Artefacts
Kettle, A., 2016. 'The Dog Loukanikos and the Cat's Cradle'', Textile work, Collect with Contemporary Applied Arts, Saatchi Gallery London, VAS:t, Scottish Royal Society of Arts, invited artist, Here and Now, Circus performance Alice Kettle, Circus and CAA Gallery, London, 2015, 2015 and 2016.
Conference Papers
Aubrey, K., 2018. 'Exploring the role and impact of Art and Design education to facilitate Healthcare initiatives'.
Presentations
McFadyen, J., 2012. 'Creative collaborations across multiple disciplines and their educational impact.', 2nd Annual International Conference on Visual and Performing Arts, Athens, Greece, 6-9 June 2011, in Not yet published.
Aubrey, K., 2000. 'Glass', Lednicke-Rovne Symposium, Lednicke-Rovne, Slovakia, Jul 2000.