Mark Beecroft
Senior Lecturer
Textiles in Practice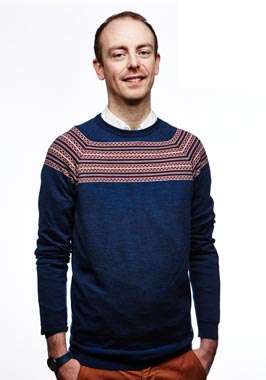 Mark completed his BA (Hons) Embroidery degree at the Manchester School of Art followed by an MA in Textiles funded by the Arts and Humanities Research Council. Alongside his teaching on the Textiles in Practice programme, Mark is part of Rogue Artist's studio group and has exhibited his work both nationally and internationally, including the USA and China.

Mark's practice is an exploration of process, utilising digital software and digital fabrication in combination with photography, print and mathematical model making. He explores repetition through pattern and form, working with a range of materials including paper, acrylic and wood.

As a member of the Design Research Group, Mark works at the intersection of textile innovation and new materiality, adopting a hybrid approach to technologies such as 3D Printing. Mark is interested in how digital fabrication and hand-crafted techniques can be integrated in the design process.
Projects
This research explores the materialisation of 3D printed 'textiles' that make use of knit's primary structures to create seamless textile forms. The 3D printed forms utilise both single-face and double-face weft knit structures. Details…
There has been an explosion of hype and interest around 3D printing for textiles and fashion over the last few years. We've seen fully printed dresses on the catwalk alongside the recent fully printed fashion collection printed on desktop printers. Details…
Experimental in its approach this body of work explores the morphing and integration of 3D printed shapes with knitted, woven and non-woven fabrics. With a focus on creating movement and flexibility within the 3D printed forms, interlocking loops are taken from the structure of knit. Details…
Research
Mark Beecroft is a member of:
A selection of recent research outputs.
Exhibitions
Beecroft, M., 2017. BBC Digital Cities- Digital Fashion event, Harvey Nichols Manchester, 15/11/2017.
Beecroft, M., 2017. Intersections: collaborations in Textile Design Research, Loughborough University London, 13/9/2017.
Beecroft, M., 2017. Serendipity Studio ( part of Clerkenwell Design Week), The Goldsmith Centre London, 23/5/2017.
Beecroft, M., 2017. TCT show, NEC Birmingham, 25/9/2017.
Beecroft, M., 2016. Fashion is a Force for Good, The Great Hall, Sackville Street Building The University of Manchester 60 Sackville Street M1 3WE Manchester, 12th October 2016.
Beecroft, M., 2016. Significance at the Knit and Stitch show, Harrogate, 24th-27th November.
Beecroft, M and McPherson, L., 2014. 3D Printing The Future, Digital Innovation,The Shed MMU.
McPherson, L and Beecroft, M, 2014. Knitting Nottingham, Bonnington Gallery, Nottingham Trent University.
Beecroft, M., McPherson, L., 2014. Knitting Nottingham, Bonnington Gallery, Nottingham Trent University, 6/11/2014.
Beecroft, M., 2014. Moving Textiles: Digital Encounters, Herbert Read Gallery UCA Canterbury.
McPherson, L. and Beecroft, M., 2014. Spin Expo, Shanghai, China.
Beecroft, M., 2013. Seamless: The Digital in Design, Museum of Architecture and Design, Ljubjana, Slovenia.
Beecroft, M., 2012. Access All Areas, Holden Gallery Manchester
.
Beecroft, M., 2012. Lost is Found, The Cornerhouse Gallery Manchester.
Beecroft, M., 2011. Amateras Annual Mini Paper Art Exhibition, Sofia Paper Art Fest, Bulgaria.
Beecroft, M., 2011. Calculated Results: Mathematical Art, The Arts Center, Corvallis USA.
Beecroft, M., 2011. Nottingham Open 11, Nottingham Castle Art Gallery.
Beecroft, M., 2010. The Power of Copying, Xuzhou Museum of Art, China.
Beecroft, M., 2006. Art of the Stitch, touring exhibition RWA Bristol, The HUB Sleaford, Williamson Art Gallery and Museum Birkenhead.
Beecroft, M., 2006. Paperworks: Paper Art Now, Bury Art Gallery.
Journal Articles
Beecroft, M., 2016. '3D printing of weft knitted textile based structures by selective laser sintering of nylon powder', IOP Conference Series: Materials Science and Engineering, 137, pp. 012017-012017.
Presentations
Beecroft, M., 2016. 'Interlooped:3D Printed Textiles', MakeShift (The Crafts Council), Museum of Science and Industry, 10-11 November 2016.