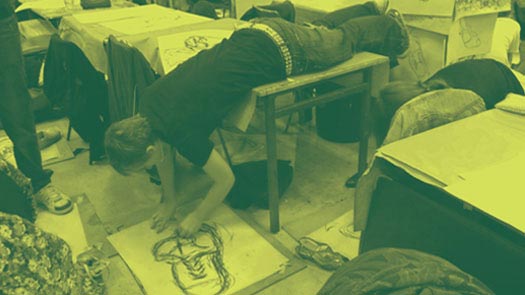 Foundation Diploma
Edexcel Level 3 BTEC
Foundation Diploma in Art and Design
Described as one of the strongest and most distinctive foundation programmes in the country, you will develop the skills and portfolio required for most degree programmes in art and design. The various creative projects you undertake will allow you to experience a range of ideas, materials, processes and technologies, enabling you to then identify and explore your preferred degree with the support of experienced staff. At the end of the course you will have the opportunity to exhibit in the established annual degree show.
Special Features
—

Recognised as one of the best courses of its kind in the UK and has been awarded an Ofsted grade 1 report in the most recent report.

—

Gives you the skills and knowledge for most degree programmes in art and design at this university as well as similar programmes at other universities.

—

As a student of this course you are eligible for direct entry onto most of the MMU art & design courses providing you have achieved the required academic standard.

—

Gives broad experience of creative techniques, disciplines and media, to develop your abilities and skills and help identify your preferred area of study at degree level.

—

Gives you the chance to take part in faculty events, lecture programmes, artist residencies and exhibitions.

—

The course can also be used as a creative foundation for alternative academic and practical courses, such as dance, theatre, science, English and history of art.
Course Content
In Term 1 you will be introduced to a wide range of creative activities to develop your practical and conceptual skills, helping to make choices for your future area of study. Through various practical projects you will investigate ideas, materials, processes and technologies, which will give you an awareness of historical and theoretical contexts and develop your independent learning skills. You will also begin preparation for BA course entry.
In Term 2 you will move towards the specialisation that you wish to follow at degree level, and apply for your chosen degree place. Individual guidance is given from an experienced range of staff on the options best suited to your work and future ambitions.
In Term 3 you will produce an exhibition of your final major project alongside the BA Faculty Show and complete preparation for BA course entry.
Assessment
Continuous assessment, advice and feedback. Assessed final major project.

Graduates
Previous graduates have embarked on a range of careers as architects, photographers, ceramicists, jewellers, glass blowers, retailers, gallerists, retail buyers, design managers and a variety of other design-based roles. There are a range of opportunities available within the creative industries including designing for magazines, publishing (print and internet), advertising and motion graphics for television, journalism, filmmaking, freelance media and independent production. Alternatively, there is also the opportunity to become self-employed and some of our previous students now successfully run their own creative businesses.
Making an Application
Entry Requirements
| | |
| --- | --- |
| UCAS Tariff Points/Grades Required | 120 at A2 or equivalent (such as BTEC National at Level 3 or Advanced Diploma). |
| Specific GCSE Requirements | GCSE grade C in English Language |
| International Baccalaureate | 24 Points |
How to Apply
Applications are through the University application form and not through UCAS. The form can be downloaded via the link below.
After completing the application form, please e-mail to adm.artdes@mmu.ac.uk or post to:
Art & Design Admissions Team
Manchester Metropolitan University
Business School & Student Hub
Lower Chatham Street
All Saints Campus
Manchester M15 6BH
Home/EU candidates who are applying for September 2014 entry should return their applications by 13 December 2013 to ensure an interview.
Download Foundation Diploma Application Form
Interview
If you are invited for an interview we will also send you details of a test project which you should bring with you. The project brief can be downloaded below.
Please contact the Art & Design Admissions Team if you require any additional information.
Telephone: 0161 247 5922
Email: adm.artdes@mmu.ac.uk
Fees
Home/EU students who are under 19 years old on the 1st September in the year they start the course do not pay any fees.
The fees for 2014 entry are not confirmed yet, but in 2013/14 the fees were:
UK/EU students (aged 19+): £1,220
Non-EU international students: £6,700
An Edexcel examination fee is also payable.